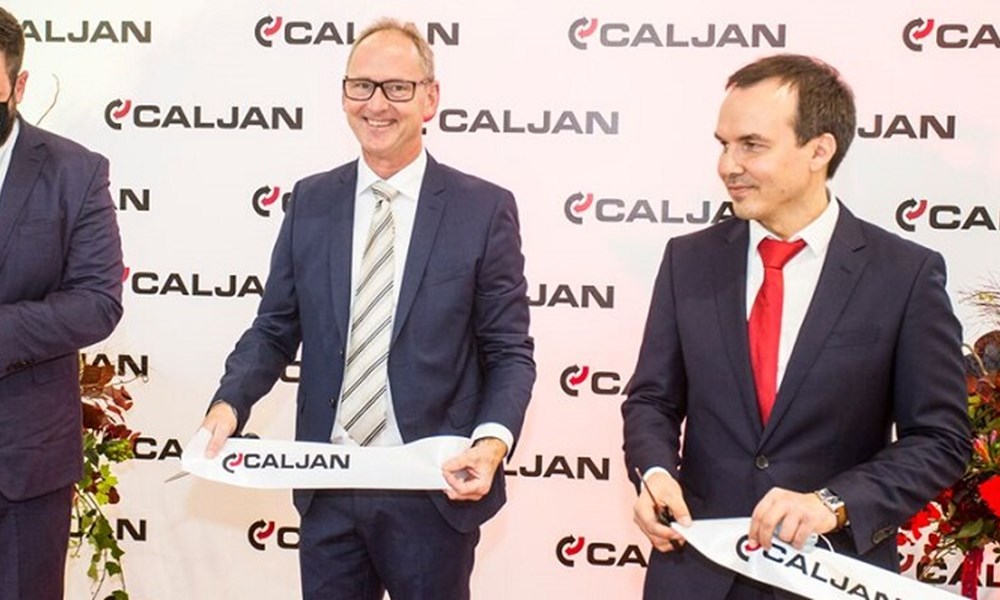 3,000+ Telescopic Conveyors a year
Caljan Telescopic Conveyors are the preferred choice of numerous parcel carriers and retailers. Repeat, high-volume orders are commonplace, and the level of orders in general has increased. To ensure sharp delivery times on both sides of the Atlantic, Caljan has invested in two new production facilities bringing total annual capacity up to more than 3,000 Telescopic Conveyors a year.
Caljan now has four production facilites: 
Caljan Latvia
Located alongside the motorway that joins Liepāja with Riga, the new 13,500 m2 (145,300 sq. ft) facility officially opened on 23rd October 2020. Doubling current Telescopic Conveyor capacity, this multi-million Euro investment will reduce European delivery times significantly.
Remaining in Liepāja has been a fundamental part of our expansion strategy. Retaining skilled and experienced employees means the transition to the new plant has been smooth without noticable interruption in production.
Caljan US
To increase flexibility and bring us closer to valued US customers, Caljan is now the proud owner of a 108,000 sq. ft (10,000 m2) production facility in Menomonee Falls, Wisconsin. Location close to the East Coast is an important factor for many US customers.
This plant will manufacture our popular Caljan Performer Telescopic Conveyors. Global customers will be pleased to learn that Caljan Labelling Systems form a key part of future US growth plans.
The ribbon cutting ceremony takes place on November 13th 2020.
Caljan Denmark
Caljan HQ is located on the outskirts of Denmark's 2nd largest city, Aarhus. In addition to group administration, the facility houses development and production of Caljan Telescopic Conveyors.  
Caljan Germany
Specialising in individual Labelling Systems and Automatic Document Handling, this facility encompasses development, engineering and production.  
See here for job opportunities.
Join our LinkedIn community and get regular insights and news directly in your LinkedIn feed.