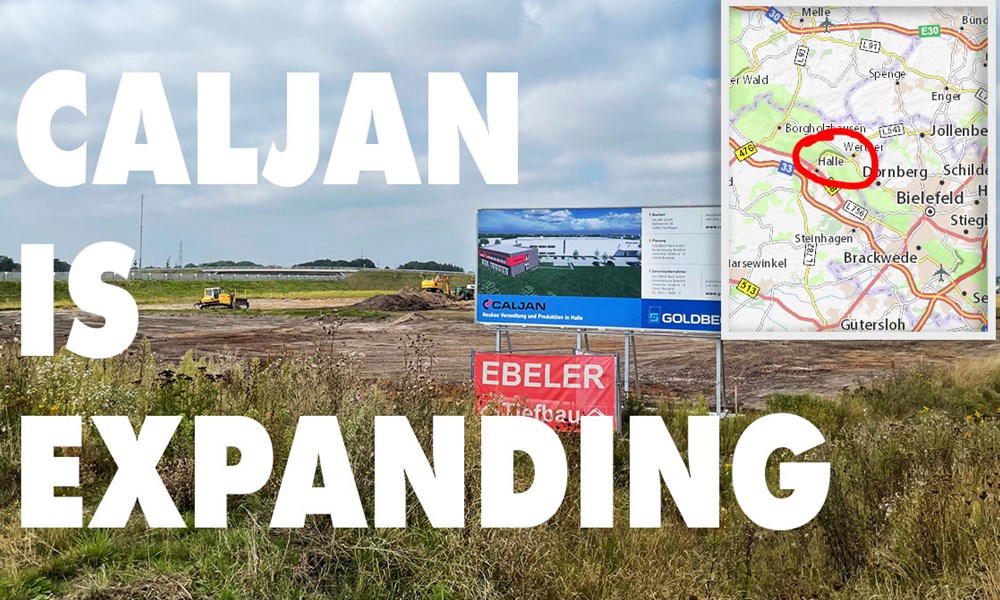 New sustainable facility reinforces brand
The Caljan Group continues to grow at an impressive rate. The newest facility, currently under construction in Germany, will house the Labelling & Document Handling division. In addition to being significantly larger than the current production plant, the new building is characterized by a strong focus on sustainability. Approved according to BEG 40, a German government program developed to encourage energy efficiency, the new premises will house both production and administration.
Since becoming a division of the global Caljan Group in 2008, Caljan Labelling & Document Handling Systems have gone from strength to strength. Automatic Print & Apply plus document handling systems are continuously being developed for customers that include international logistic giants. Since it is not possible to extend the current location, all departments including R&D, engineering, production, and service will move to a new energy-efficient building in Halle near Bielefeld in August 2022.
Sustainability, functionality, and economic efficiency are very much the focus of this construction project. The new Caljan building will consume 60% less energy than conventional buildings. In order to achieve this goal, Goldbeck GmbH, the construction company, will implement various measures including a large photovoltaic system installed on the roof. Some of the electricity generated will be used to charge electric vehicles parked in the car park. The entire building will be equipped with highly insulating materials. Geothermal heat pumps, dark gas radiators and ventilation systems with heat recovery ensure an excellent energy and CO2 balance.
The construction project started on 30th August. Wieland Wegge, Managing Director of the division explains
"Caljan solutions for Labelling & Document Handling are much sought after by national and international online retailers and their 3PL partners. The increasing volume of orders requires a larger workforce and more space.

We want to create optimal working conditions so that we can implement our customers' projects in the best possible way."
He adds
"Keeping our employees, who are both highly-qualified and experienced, is crucial to our success. The purchase of the 25,000 m² property in the Ravenna Industrial Park near Halle not only gives us security for the future; it is also a clear commitment to our business location in Westphalia and our employees."