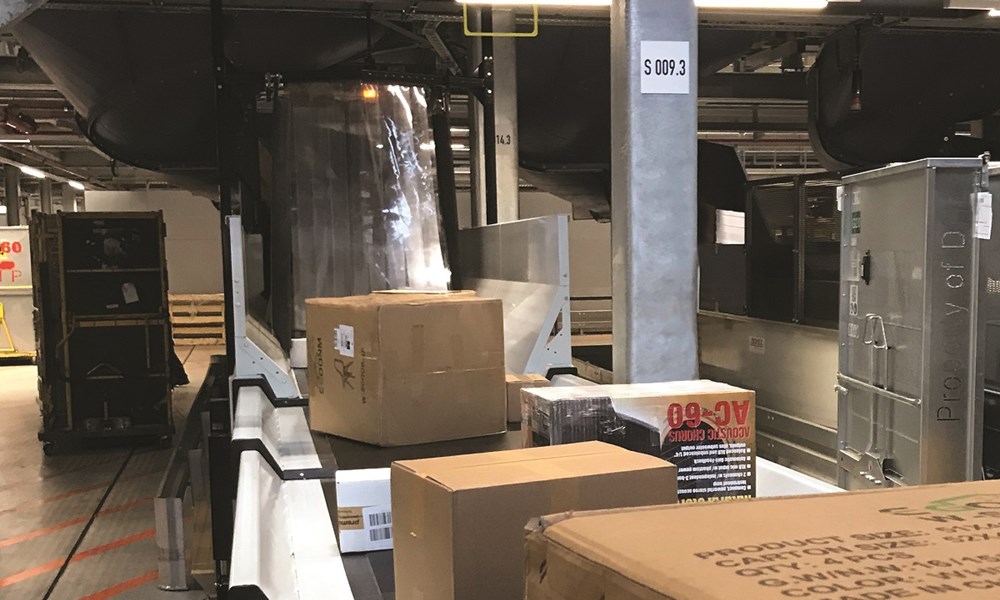 Loading: Remove the 3D bottleneck
Throughput can be increased
To handle larger volumes of parcels and packages, all parts of the sortation and distribution system must have similar capacities. This is achieved with Caljan BulkLoader. Goods leaving the sortation system flow down a chute or funnel onto the tail end of the Telescopic Conveyor. Multiple conveyor belts separate the 3D bulk volume into a more manageable 2D stream of goods.
Goods stay on the belt
A curtain suspended above the belt, and specially developed raised profiles along the length of the Telescopic Conveyor, keep the cargo on the belt so that accidents — and damage to cargo — are avoided.
The raised profiles, which are highest at the tail end of the conveyor, are an integral part of BulkLoader. When the equipment is not in use, the guards retract neatly with the Telescopic. Personal safety is assured as there are no pinch areas. No cages or barriers are required.
Caljan BulkLoader has been put through its paces at a renowned parcel carrier in Germany, who comments:
"BulkLoader solves a major issue in our operation. Previously package jams caused damage to the goods being transported. There was also a risk of accidents. We can also see that productivity has improved."
Getting objective feedback from potential users in a real-world environment is a critical part of the development process at Caljan.
Bulk cargo can be handled swiftly and ergonomically
The unique design of BulkLoader builds on the tried and tested technology of Caljan Telescopic Conveyors. When package volumes fluctuate, cargo can accumulate along the conveyor, so multiple doors can be manned by just one person. Using the equipment is intuitive and easy.